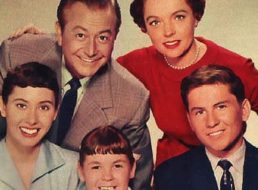 Posted on October 19, 2017 by jhuyboom in Uncategorized

"Father Knows Best" ran on network television from 1954 to 1963 and is a classic example of American Pop Culture at its best. Four of its five cast members were seasoned actors coming from successful movie careers; with the show paying attention to literate dialogue, movie-style camera work and lighting, high-quality direction and production values, […]

Comments Off

on Welcome to one of the most beloved television series of the 1950s and 1960s! Winner of six Emmy Awards and a "Top 10" hit in Neilsen Ratings, the Andersons are one of America's all-time favorite TV families!

Continue Reading...