1960 Cancellation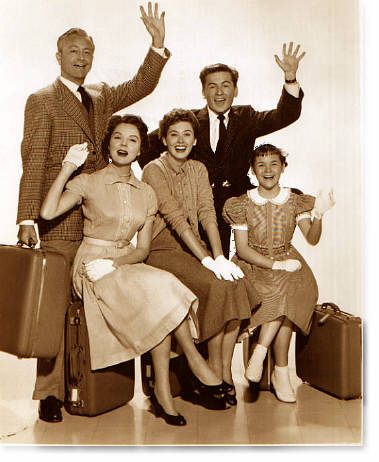 Here's the official press release from 1960!
For many months, we have been under terrific pressure from many quarters to announce our decision about the future of Father Knows Best. It has been no secret that we would both prefer to cease further production of the series. This in itself, we have pointed out to many questioners, could not constitute a conclusive decision, any more than it did a year ago, when we both felt exactly the same way. We would like to tell you some of the reasons why we have wanted to discontinue production.
Over its six years on television Father Knows Best has told an organic story of a family. By 'organic' we mean it has grown like a living thing. The Andersons' little girl [Lauren Chapin] has grown from a kitten to an awkward adolescent. Their older daughter [Elinor Donahue] has gone through high school and into college. And the father, you may have noticed, has acquired several more gray hairs.
How long could we continue on the same basis? Inevitably a family's integration begins to break down. The inescapable logic of our plot, and our casting, demanded certain agonizing decisions. We had reached a point at which it was only reasonable for our daughter to get married; we very seriously considered doing that during the current season. And we had reached a point at which it was only reasonable that our son Bud [Billy Gray] go off to college, or into the armed forces, and we had to consider that too during this season.
But we refused to scatter the Anderson family because, we recognized, it would destroy the basis for our show. Father Knows Best is not based on the charm or wit of any single personality. Our series is based on the relationships between members of a growing family. If we allowed the family to grow past the point of growth, it would no longer be the series we wanted to produce, and the very title would become absurd.
Another reason we have wanted to get out of further production is more personal, concerning our own energies and creative resources, as well as those of Jane Wyatt, the rest of the cast, our director and writers.
Can you imagine how demanding it is to continue to produce the same program series, almost every week, for six years? We have been blessed in that each successive year Father Knows Best has gotten a better score from the audience research polls. But the very success struck terror in our hearts. You don't want to fall back, but at each step the fear that you will gets greater. How many fresh and amusing situations could we contrive for the Anderson family? How many times could a father demonstrate his wisdom without getting tiresome? We had reached a point after which, with each new show, our doubts about our own abilities to do it as well as we wanted to grew greater.
Hence, for over a year we have wanted to stop production. And yet we could not arbitrarily walk out on it. Such an overt decision, without regard to the future telecasting of the series, would have been a disservice to our partner Screen Gems, to the sponsors that have supported us through these years, and to the thousands of viewers who have written us letters urging continuation of the series.
Now at last an ideal solution has presented itself. An excellent arrangement has now been made with the Columbia Broadcasting System for the future telecasting of Father Knows Best. The Scott Paper Company will continue to sponsor the series for the next two years in a new time period, Tuesday nights at 8 o'clock. We will make a careful selection of what we consider the best of more than 200 films made, to be telecast in logical sequence beginning next fall.
This arrangement means that the many viewers who have found pleasure in Father Knows Best in the past will be able to continue to enjoy it at their comfort, to see films they may have missed, and to see again films they may recall having enjoyed in past seasons. It also means that children who were too young to stay up to see these films previously will now get a chance to see them.
Here's how the five permanent cast members felt about it in 1960.
Robert Young : "Some days I feel like the prisoner let out of the penitentiary: the gates clang behind him and he's temporarily lost. He has no home. He doesn't know where to go, what to do.
"Generally, when a series is finished a party is given for the cast and crew and everyone vows eternal friendship and love. In our case we closed down ignominiously because of the writers' strike-we just sort of faded off saying, 'See you when the strike is over'-and I'm sure when things are settled, Eugene Rodney and I will have a party for the cast and crew because we want to say good-bye to them properly and express our gratitude for all the wonderful things they've done for us during the past six years.
"My Immediate plans? To play golf and more golf. My future plans are really in a state of flux. I plan to take my family to Europe this summer for a vacation. Beyond that, I haven't a clue as to what I'll be doing."
Jane Wyatt: "I feel that an important part of my life is missing, not reporting to Stage 11 at Screen Gems five mornings a week. I have nothing to do right now, but I'm busier than ever with housewifely things-gardening and meeting friends for lunch. It's been six years since I've had the leisure for that! And shopping, and planning my son Christopher's wedding on June 18.
"I'm sorry the series is over, naturally-it was such an important part of my life for so long. But it's good to have time to myself for a change. My plans? There is talk of another series, but I'm not at liberty to discuss anything about it now. I most certainly do not intend to retire-I enjoy being an actress too much to be content with an entire future of puttering. If this particular series goes, fine. Otherwise I'll do TV guest appearances, and I'd dearly love to do a Broadway play if the right script were submitted."
Elinor Donahue: "I was sorry to see the show stop production. We've all been together for so long and worked together so much that we felt like an actual family-and it was really like a part of a real family unit breaking up. My plans? Well, I hope the pilot I did for Calling Miss Peters sells. And there have been some movie offers. I certainly plan to keep on acting."
Billy Gray: "I'm unhappy about the show's ceasing. It was fun to do and the money was fine! I haven't any specific plans. I did a Peter Gunn and the associate producer said he wants to talk to me about another series. And I'm planning to go to Rome for a vacation. Then I'll look for work."
Lauren Chapin: "I still don't believe we're through with the show. I've grown up with my 'other family' and I miss them all very much. I've had offers for four other series, and I will probably do one of them. Mostly I'd love a Broadway show-and just think, I heard Jane Wyatt wants one too and if we could do the same show together, it would be like part of my own family back together again!"
More Articles after "Father Knows Best" ended:
Jane Wyatt's "Family" Is No More, They'll Make No More Shows In Popular Series
by Vernon Scott, December 18,1960, and appeared in various regional TV magazines.
What happens to a television star when her entire family is "wiped out" overnight? Jane Wyatt had that happen to her when "Father Knows Best" was discontinued. Comparing it with the loss of a real family isn't entirely superficial, either.  Jane, in the role of Margaret Anderson, lived and worked with her TV family 5 days a week, 12 hours a day for six years.
The highly-rated show was a way of life for the cast. They became closer than most real-life families. "The family feeling still hangs on with me", Jane said. "And it will take a while for me to get over it". "I truly had a feeling of living a double life with two families. I treated the children on the show as if they were my own. Lauren Chapin was only 8 when we began. Billy Gray was 15 and Elinor Donahue was a fresh, young 16. Bob Young and I watched them grow up, helped them along and suffered with their minor problems. Those things don't fade easily".
Jane, whose soft gentle manners remind one of the roles she played so long, said she had hoped the series would continue until she and Young became TV grandparents. "Then the kids could have carried on the show by themselves with only occasional visits from Bob and me."
The program is in prime-time reruns now on CBS, but no more "Father Knows best" shows will be made again. Nevertheless, Jane Keeps in close contact with the "family". "I see more of Billy than the others", she said. "He stops by the house regularly and brings along his new wife, a beautiful Italian girl he met in Rome. He is 22 now and a wonderful boy. We talk as if he were my own son". (Jane has two boys of her own).
"Lauren is in high school now and very busy being a teenager. She doesn't seem to miss acting at all. She calls me to tell me about her current boyfriends". "Elinor is very much engrossed in her new series, "The Andy Griffith Show", and I don't see as much of her as I would like to. She is a lovely, sensitive girl. I'm very fond of her".
Jane wishes the best for the careers of her TV offspring, and also is concerned with Young's future. "Bob is starting a new series soon, and I dying to find out what it is all about. He calls me once and awhile and we gab on the phone for hours".
Jane works occasionally, collects residual checks from the reruns and says emphatically, "I don't want to think of another series right now. I need more time to get away from being Margaret Anderson, to be with my own husband and boys for a while".