History

Ironically, Father Knows Best is loved by its fans and disliked by its critics for the same reason: its ideal of the "typical American family". After World War II, Americans had a bright future ahead, and optimism abounded. Father Knows Best reflects this mood, and was an "improvement" on reality, the way TV shows and movies used to be. The program was like a Norman Rockwell painting- filled with cheery lovable characters and a non-threatening humor that was middle America's idea of itself. It was an air-brushed, touched-up portrait of family life that people could aim for. It spoke to the sunny ideal of how we could live our own lives. Every episode had a message, something to say that would touch the television audience. In outright defiance of the 1950's sitcom formula of "zany wives, blustering chowder-head husbands and sassy children one step away from juvenile delinquency", Father Knows Best portrayed a family that was surprising similar to real people. The parents managed to ride through almost any family situation without violent injury to their dignity, and the three Anderson youngsters were presented as decently behaved children who respected and loved their parents. A newspaper critic at the time wrote that "Jim Anderson may be the first intelligent father permitted on TV since they invented the thing".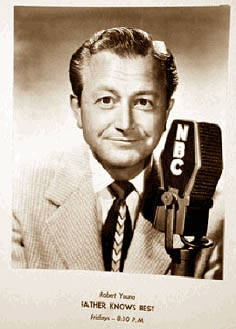 Like many shows of the period, Father Knows Best began on radio (NBC in 1949), 5 years before becoming a television series. It competed with nineteen other family shows then on the air waves, and out-survived them all. The characters were created by Ed James and he wrote more than 100 scripts for the radio version. Jean Vander Pyl- the voice of "Wilma" on the Flintstones- played the role of Margaret Anderson on many broadcasts. 197 radio shows were broadcast over 5 years. (116 of those episodes can be found on the internet in various forms.)
In 1953, Robert Young and his partner Eugene B. Rodney decided to try the format out on TV. In partnership with Screen Gems, a pilot was developed. It was aired on the Ford Theatre in 1953 and was entitled "Keep It in the Family". It starred Robert Young, in the identical "Father Knows Best" home (soundstage), but with an entirely different cast. It was decided the family in the pilot episode wasn't good enough to belong to such a "sterling father", so the hunt was on for a new cast. "For such an out-of-the-ordinary TV father", said Eugene B. Rodney, " we didn't want a TV family stereotype. Our Bud had to have a teen-age boy's abstraction, not flipness. More than thirty boys read the test script, but only one could say the gag lines – the Bud-isms- flat, able to resist a "this-is-a-joke-see?' lilt." "As an example", said Mr. Rodney, "when Jim, worried about Betty's going steady, reads aloud a newspaper story about a girl eloping and taking $200 with which her aunt was to buy a TV set, our Bud had to be able to look up and ask seriously, 'What size screen, dad? Billy Gray was the only actor that could do it the way we wanted".
Seventy-eight girls were interviewed for Kathy. Mr. Rodney commented, "We got dozens of adorable little blondes. We finally picked a Kathy (Lauren Chapin) who had absolutely no acting experience, because she wasn't precocious-seeming. Same with our Betty (Elinor Donahue); she had to be attractive, but not sophisticated. For Margaret, we needed a woman who was a real mother, pretty enough to have a Robert Young for a husband, but a Rock of Gibraltar in her own family". Jane Wyatt rejected the role the first time it was offered to her. She was living in New York City with her Husband, Edgar Ward, and their two sons, and was interested in TV roles there. But Eugene Rodney wouldn't budge. He sent Miss Wyatt a script anyway. She fell in love with the script and accepted.
Movie Actor Robert Young created and defined the role of Jim Anderson. His approach to playing Jim Anderson was perfect; he radiated affection, admitted his own shortcomings and had an uncanny ability to view life from the same perspective as his fictional children. In terms of temperament, directors have referred to Young as Hollywood's most unstarlike star! He worked hard, seeked direction, apologized for fluffs in lines, was dependable, and got his sleep nights instead of prowling night clubs. He was already happily married to Elizabeth for 24 years when he began Father Knows Best and remained married to her the rest of his life.

Father Knows Best debuted on CBS on October 3, 1954. Father Knows Best won 4 national TV awards of excellence in 1954 including the Sylvania award for "outstanding family entertainment". A New York Times critic called it the most appealing and believable family situation comedy in television, and credited Robert Young with "restoring parental prestige".  Audiences felt Robert Young had made "father" a human being.   He was a hero to his son, mentor to his teenage daughter, and everything from Santa Claus to scout leader to his impish youngest.  But behind the scenes,  a few weeks after the show began, the sponsor (Kent Cigarette's), became dissatisfied with its low rating in the audience poll and decided not to extend the twenty-six week contract. Fans sent letters of protest, with most people hitting the theme that "this is one of the very few shows that our whole family, young and old, watches and likes. We even learn something from it". Television columnists took up the crusade, urging audiences to write to the President of the CBS network and suggesting that Father might have a higher rating in the polls if it were shown earlier; ten p.m. they said, was too late for a family show.   But CBS and Kent Cigarette's cancelled the show anyway. Just when the show seemed scheduled to leave the air for good, the Scott Paper Company (seeing the public response) picked up the sponsorship contract, and moved it to the NBC network at an earlier hour (8:30 p.m.). From there, the rest is history. Within a year 19 million households tuned in to watch Father Knows Best on Wednesday evenings. By 1960 it was finishing in the top ten every week, becoming an institution!
The set for the Anderson home was a $40,000 combination of illusion and reality. Its two floors, patio, driveway and garage sprawled over Columbia Pictures' Stage 11 (although some incorrect sources say it was stage 10). There was one area for all four bedrooms, with interchangeable, wallpapered walls, that could be made to look like any of four different bedrooms. The kitchen was real. Every morning coffee and sweet rolls were served in it. Lunches were kept in the Anderson's refrigerator. The Kitchen actually had red wallpaper, white cabinets and blue countertops- but to the TV audience, it was all in shades of gray.
Unlike many studios that used live audiences and three cameras, Screen Gems used one camera on a closed set. Many artists claim that the one-camera process is better because the technique results in a more "intimate image or feel" for the viewer. Screen Gems also "paid attention to the details" with their closed sets, making sure most major rooms had four (not three) walls. This allowed for many different camera angles, anywhere in a room, that made the audience feel like they were in a "real" house. The show was shot with 35mm black and white film (but most prints for networks ended up being on16mm film). It was shot on film because Eugene B. Rodney said, "There's nothing that'll grow ulcers faster than trying to do a live show with children".
Rehearsals were held on Mondays and Tuesdays, with the last three days of the week given over to actual filming. If they didn't finish, they had to work Saturdays (which was most of the time). Peter Tewksbury, the director for 4 seasons, added extra rehearsals, which made for the longer shooting schedule. He wanted the cast to rehearse so every move was natural and automatic. "We would even go through all the physical gestures, like buttering toast or reading a book, while we rehearsed our lines. The idea was to never lose your concentration. We rehearsed one scene so much that, when filming started, I actually pantomimed the scene rather than using props", says Elinor Donahue. Each episode cost about $25,000 to produce. The production company stayed about seventeen shows ahead of the air dates. Over six seasons, 203 episodes originally aired. All seasons have now been put out on DVD! Of the 203 episodes- 187 are uncut, meaning they run the full 26 minutes. 15 episodes are syndicated prints running 22 1/2 minutes, (14 of them on the season 1 DVD, and one on the season 5 DVD). In theory, we can say there is one episode still lost, #170 Margaret Goes Dancing. But this episode, made in 1958, is a flashback episode, so maybe only 3-4 minutes of new material is missing, as the original episode #11 was substituted.
Father Knows Best became such a part of American pop-culture that in 1959 the U.S. Treasury Department commissioned a 30-minute episode called "24 Hours in Tyrant land". Never to be aired, it was distributed to schools, churches and civic groups to promote the buying of savings bonds. (This VERY RARE episode treat is on the Season One DVD.)
Scripts were the most important thing to Eugene B. Rodney and Robert Young. "Good scripts weren't big action or bagfuls of jokes", Rodney said. "We sought character, motivation". The two major writers for the show were Roswell Rogers and Paul West. They got their ideas from their own family life, Mr. Rogers having three children, and Mr. West having four. They looked for scripts that people would say, "that happened to us once". Many scripts contained what Rodney called "built-in moral lessons".
The two major directors were Peter Tewksbury and William D. Russell. Mr. Russell directed the first 62 shows. He was a big man with a big voice, who was able to weep easily. Robert Young used to say the cast gauged the effectiveness of any sentimental scene by watching Russell after he yelled, "Cut!" If Russell's cheeks were all wet, all was well. Peter Tewksbury was a young thirty-three year old who directed the majority of the remaining 141 episodes. When ready to shoot, the assistant director would yell, "QUIET!" Mr. Tewksbury would then deviate from the standard director's call and say, "All right, now. HAPPY! ACTION!
The producer was Eugene B. Rodney, who was in partnership with Robert Young as the owners of the series. Mr. Rodney would weep happily and copiously as he dubbed in the sound and laughs on each show. He loved the series. When people suggested the series approached over-sentimentality, Eugene declared, "If I ever get a director so cynical that he can't feel it deep in his heart when a little girl places a crippled sparrow in a nest and then goes upstairs to her room and prays to God that that sparrow lives-why, I'll fire him!" Says Jane Wyatt about Eugene B. Rodney, "Gene is like that. He knows everything there is to know about this show. After my first season, I went to him and asked how I could improve my characterization. He looked at the ceiling for a moment and said, 'Love your children as much as you love your husband'. He was right. I'd been concentrating on building up a firm, strong relationship between Jim and Margaret and had been neglecting the children." The talents, values and attitudes of all the people involved in the show made it the success it was.
In 1960, Robert Young grew tired of the role he had been playing on radio and television for eleven years. He felt the family had outgrown the original premise of the show, as it was time for Betty to get married and Bud to join the army, so they decided to call it quits. (For a more detailed account, read the official statement on this website regarding the shutdown of Father Knows Best.)

In 1977, Robert Young entered the Anderson household again after his successful series, Marcus Welby, M.D., concluded. Two movies were made reuniting the cast, one shown in May and the other in December of that year.
Robert Young passed away July 22, 1998. Jane Wyatt passed away October 20, 2006. Today, Elinor Donahue and Bill Gray live in California, and Lauren Chapin lives in Florida.