Music – Theme
The "Father Knows Best" theme is actually entitled "Waiting". The music was written by Don Ferris and Irving Friedman and the lyric's were written by Leon Pober. The lyric's were never used in the show but "for fun" here they are:
Waiting, for love to find us,
is something worth waiting for.
Someday, my arms will hold you,
my lips will kiss you, forever more.
Yes, waiting, can be so lonely,
yet somehow we'll see it through.
Knowing, there's someone waiting right there just for you.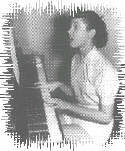 The Father Knows Best Theme is included in Tee Vee Toons Black and White Classics .  Click on the CD cover to hear the music.